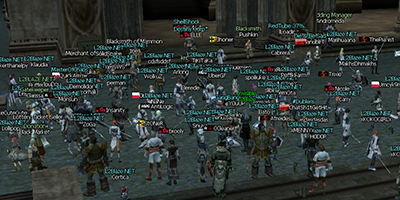 Cold and dark autumn evenings is coming, spend it with your friends and enemy in Lineage2 Blaze world!
Lineage2 Interlude X70 New Season started
Good to know!
- First Heroes will be formed after October 30th fights.
- First Castle Sieges at October 31st.
Few more things you should know
We've worked hard for more than 10 years to gather all the information for your preferred type of game server - we've put together your ideas, your suggestions, information and researches from different knowledge bases and we've made a lot of tests to make the project as good as you love it. Our goal is to create a masterpiece that everyone can enjoy. We are one of the best server and we will be forever. There are many things we did damn right in the past and we will do much more in the future! Because of that - you're going to see many things you have not seen before on another servers!
Our team knows what you want and what we should do! Looking for quality and technical excellence?
You need safety and exceptional security?
You seek true adventures, unique game world, exquisite and eventful game?
It means you are in right place!
Welcome to L2Blaze, only here you will find and enjoy real game!
How to connect STEP BY STEP:
1. Download and install clean Lineage2 Interlude client
2. Download our patch, delete old system folder and add our
3. Delete, turn off anti virus or add our system folder to anti virus exceptions
4. Run l2.exe from Lineage2/system
5. Enter data on login window and enjoy the game!
* You have to remove, turn off or use exceptions of antivirus because of our security protection. It is not a virus.
* If you have connection issues with Windows 8 or 10, press right mouse button on l2.exe icon, press Properties, choose compatibility and unmark compatibility mode.
Lineage2 Interlude L2Blaze.NET System Downloads:
- L2Blaze System v9 patch:
OUR FTP
- L2Blaze System v9 patch:
Zippyshare
- L2Blaze System v9 patch:
Send Space
Server works with all OS, also with Windows 10!
Registration is automatically on game login window!
Lineage2 Interlude Download:
- Client Lineage 2 Interlude (GameBoarder):
Download
- Client Lineage 2 Interlude (Ausgamers):
Download
- Client Lineage 2 Interlude (Torrent):
Download
Latest updates of Lineage2 Interlude L2Blaze:
- Baium instance and quest update;
- Decreased mana pots and other consumables prices;
- Upgraded protection system from illegal programs;
- Installed new geodata and pathnodes;
- Updated passive and chance augments stats;
- Mages/archers skills stats updaded;
- Added fixed to olympiad system;
- Updated Castle Sieges code;
EPIC BOSS SPAWN TIME:
Valakas: 21:00 - 22:00 Respawn 7 days!
RESPAWN: 2021-10-24 (+3GMT)

Antharas: 21:00 - 22:00 Respawn 5 days!
RESPAWN: 2021-10-27 (+3GMT)

Baium: 22:00 - 23:00 Respawn 4 days!
RESPAWN: 2021-10-30 (+3GMT)

Frintezza: 20:00 - 21:00 Respawn 4 days!
RESPAWN: 2021-10-28 (+3GMT)

Zaken: 19:00 - 20:00 Respawn 3 days!
Maximum level: 69
RESPAWN: 2021-10-28 (+3GMT)

Ant Queen: 23:00 - 00:00 Respawn 1 day!
Maximum level: 49
RESPAWN: 2021-10-27 (+3GMT)